Welcome to the inspiring life story of our student Gil Ferreira
Gil is a surfer since when she was born – really! But, differently from many people specially here in Australia, she was born in a poor neighbourhood, used to sell coconuts to survive and learned surfing by herself with the same cover she used to close the coconut cooler. Gil is from Brazil and, despite all difficulties of being a 9 year old little girl needing to work to survive, she always have found some time to go to the water, even if she needed to wake up at 4 in the morning.
The way to the waves many times made her walk in front of at least 4 blocks in front of the drug dealers houses. But she persisted, she then got her brother's old surfboard to surf. She stopped selling the coconuts with 16 years old, when she found a job in a hotel. Once there, an Italian old man used to observe her. She then told him she started surfing with the top of the coconut cooler. One day, this man gifted her with her first for real brand new surfboard. They became friends. "He is proud to see for far I went", she says.

Getting this surfboard helped her to finally be free to learn and improve her surfing techniques. She kept going and improving. Before even becoming a professional surfer, she was twice Brazilian national champion. Her life was about to change because of her passion. One day, a famous surfer called Sylvio Mancusi went to the hotel she used to work to film some episodes of a TV show to a very famous TV channel from Brazil. Without thinking twice, she just approached him to show some videos and pictures of herself surfing.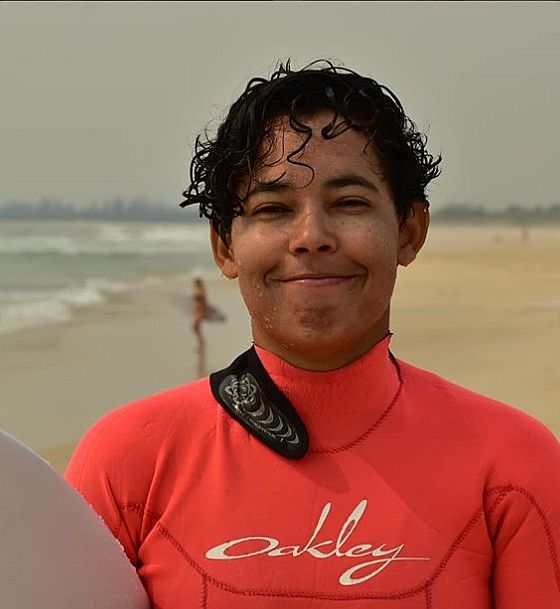 When he saw it, he couldn't believe it: he had in front of him a very talented surfer, with enough talent to represent Brazil in national and international competitions. He invited her to a surfing session. He interviewed her. And the TV show, called CANAL OFF, soon invited her to do a trip on a girls surfing program. She finally has got all the support she needed to become a professional surfer.

And she went deep: Gil Ferreira won many competitions, among them the Feminine Competition of Brazilian Surf. She also participated in two world competitions, winning the second place with another team of surfers. She competed in Portugal, France, Peru, Argentina, Chile, Spain and Australia.
And it's been almost one year since when she arrived in Australia. Envirotech Education decided to support her on her English studies and now she is surfing in this beautiful country, being invited to even be part of and Australian surfers team.

Her story is very inspiring to all of those who believe - or even who doubt – that dreams can come true. "Whenever I am surfing, I feel stronger. I feel free", she says.

Congratulations, Gil! May your pathway inspire many others as much as it has been inspiring us.